Yay, it is Friday…tomorrow is the weekend, or I guess tonight is the start of the weekend, at least that is how I always looked at it. At any rate, we don't really have weekends in our house since the hubby works every third day…making a typical work week non-existent. That's ok, we still like Fridays because it means everyone else will be off work for two days and we can spend time with them if we want to…so yay Friday!
I am, once again, linking up with the ladies from a couple of my favorite blogs (check them out and others by clicking the button below) for 5 on Friday:
For today I have decided to list 5 of the products/contraptions/items we have come to really love for Ellie:
1// Honest Company. I cannot say enough about this company and their products. We have used the diapers and wipes from day one and have loved them every single day since. They are adorable…which is super important obviously, but they are also functional and free of all the bad crap out there. They have kept her little booty clean and fresh and diaper rash free for 8 months now, so we give them a huge thumbs up. We have also been using the laundry detergent and many other products, and have not come across a product we don't like. Try them out!!! You can order via bundles on their
website
, pick them up at Target or Buy Buy Baby. We have done the bundles since Ellie was born and it is so nice to have everything delivered right to our doorstep, and the website is SUPER user friendly!!! Check these out for sure.
2// Boon Grass Countertop drying rack. Not only is this super cute and colorful but it is also functional.
We also have the accessories; like the stem and twig, which are great to hang smaller parts on (nipples, pump parts).
3//BOB Revolution SE jogging stroller
. I know this stroller is a bit pricey, but it is so worth every penny. This stroller is so sturdy, it is extremely easy to fold up and put into your car and it is comfy and safe for your little one. We have used it to jog on several occasions and it is great for that, but we really wanted it because of how sturdy it rode…we never feel like Ellie is bouncing all over the place. Did I mention how easy it is for me to fold up and pop in the back of my car?!?!?!
4// Merlin Magic Sleep Suit…If you have read my blog at all lately you had to of expected to see this on my list!! We loved this thing, plus it is so cute and hilarious to see her in it:) See my entire post on it
HERE
5//There are so many things I could say for the last thing here…but if I had to pick one I would say our Motorola MBP36 Digital Video Baby Monitor. We got the one with the larger screen, but they make a smaller one as well. You can also purchase extra cameras for this one if you have more then one kiddo you need to spy on. We have loved this particular monitor and I know most of my mommy friends have loved it as well. I actually like having the video because I like to be able to see what she is doing. It is also fun because you can creep out your husband by talking to him thru the speaker while he is rocking the baby and you are making dinner!!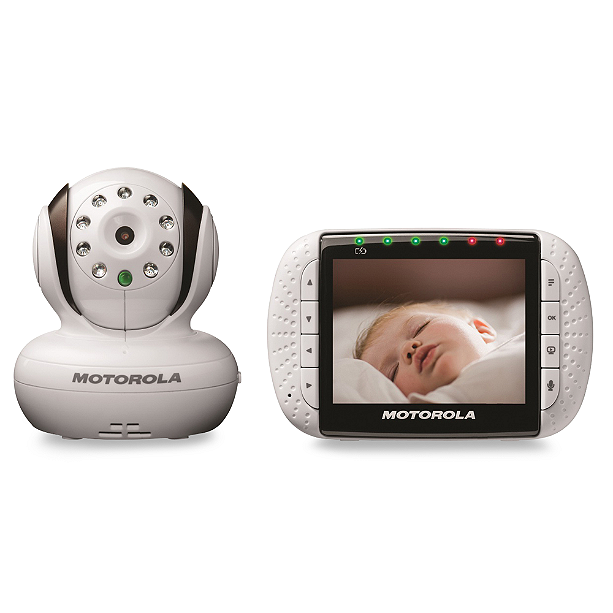 That's all I got…have a great weekend!!!